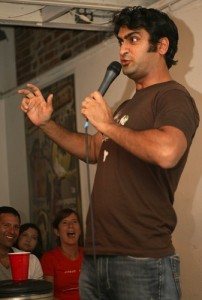 You may know comedian Kumail Nanjiani from his stand–up and TV work (Franklin & Bash) or his brush with John Mayer, all of which have been the subjects of past posts on Sepia Mutiny. If you're a fan, you'll want to listen to his recent interview with Shirin Sadeghi of New America Media covering such topics as how he went from studying philosophy and computer science in Iowa to stand-up, the biggest challenge of being a Pakistani American comedian, what he describes as his fading Pakistani accent with a trace of British school, his Twitter presence and his nerdist alterego.
In the beginning of his stand-up career, Nanjiani said the biggest challenge of being a Pakistani American comedian was telling the jokes he wanted to tell about movies, video games and TV shows, and not the jokes he was expected to tell about 7-11 or 9/11. After Nanjiani and his interviewer made reference to what was a new crop of post-9/11 comedians who were South Asian American and Middle Eastern American, the interviewer noted that unlike many of them he has an accent and "does not speak as someone born and raised here."
Nanjiani, who grew up in Pakistan until age 18 when he moved to Iowa for college, said that he was sad about his Pakistani accent getting weaker over time, and that he doesn't read comments on YouTube anymore because he came across ones saying he was putting on a fake accent. That kind of comment seems puzzling to me because it's not an exaggerated-sounding accent or used by him in a gimmicky way. Elsewhere I noticed that he has made some professional choices regarding his accent. He says, "at some point I made the decision that I wouldn't do a part where I had to put on a thicker accent. It just gets hard for me to distinguish whether something is funny because it's funny or because it's a stereotype." (The Grinnell Magazine)
Asked about who he is on Twitter, Nanjiani suggests that he's a hybrid promoter-joker on it, earning the right to "show you two minutes of commercials" after sharing tweets like this one about Nancy Grace's appearance on Dancing With The Stars, one he admitted was a mean joke. Listen to the rest of his interview.
Related: Does Pindar Singh Just Look Illegal?
Photo: Flickr image from aTROSSity 22