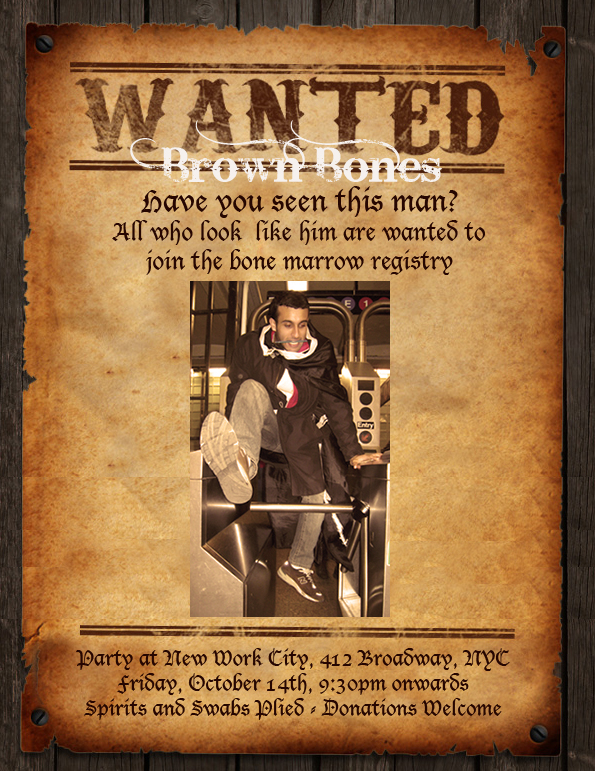 The internet world frenzied with bone marrow call outs this week when word spread that entrepreneur Amit Gupta, founder of  http://photojojo.com/ discovered he has acute leukemia and needs a bone marrow transplant.
Two weeks ago I got a call from my doctor, who I'd gone to see the day before because I'd been feeling worn out and was losing weight, and wasn't sure why. He was brief: "Amit, you've got Acute Leukemia. You need to enter treatment right away."
I was terrified. I packed a backpack full of clothes, went to the hospital as he'd instructed, and had transfusions through the night to allow me to take a flight home at 7am the next day. I Googled acute leukemia as I lay in my hospital bed, learning that if it hadn't been caught, I'd have died within weeks.
I have a couple more months of chemo to go, then the next step is a bone marrow transplant…. [M]inorities are severely underrepresented in the bone marrow pool, and I need help. [amitgupta]
We've told you before of numerous cases where bone marrow donors are needed –  for Sonia Rai, Maya Chamberlin, Vinay & Sameer, Bevin Varughese, and more. For the most part, these stories have ended tragically. The sad thing is, they did not have to end the way they did. The health disparity is stark: There are 9.5 million people in the bone marrow registry; only 1% of them are of South Asian descent; that means South Asians have a 1 in 20,000 chance of finding a match.
What are you waiting for? A simple (FREE) cheek swab can save a life. I've been in the registry since 2005. It's painless, I promise. A Q-tip rubbed on the inside of your cheek, that's it. More painless than burning your tongue on hot chai. Get your kit sent to you in the mail today. Or if in NYC, go to the awesome Brown Bones party on Oct 14th at New Work City hosted by Amit's friends.
Need more of an incentive? If you are the first certified match, Amit's friend Seth Godin will give you $10,000. Seriously.
To follow Amit's journey, check out his tweets at @superamit, Tumblr with him and of course the obligatory FuckYeahAmitGupta.
Remember – it's not just Amit that will benefit. There are many other Desis such as Anand Patel who are also looking for bone marrow donors. You could save a life.