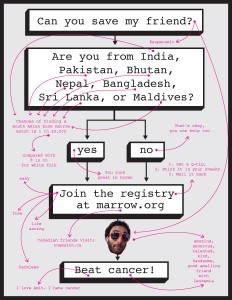 The countdown clock ticks down ominously on www.amitguptaneedsyou.com, counting down the 22 days left of finding a perfect donor bone marrow match for Amit Gupta, who I blogged about before. The bounty for a match (just a certified match, not a donor) is up to $30,000 generously donated by his friends. Amit has now been interviewed on CNN by Sanjay Gupta and his campaign is gaining national traction, with a bone marrow sign up table at almost every Brown event.
It's surprising to me after all this time that there are still people not registered in the bone marrow registry. At last week's San Francisco Subcontinental Drift, I eagerly convinced my friend to sign up to the bone marrow registry at the back table, surprised that he hadn't done so already. "I've been in the registry for 7 years," I told him. "All it takes is 4 simple cheek swabs and you are in." Within minutes, he was in the registry too.
But what is it like to actually donate? That I didn't have experience in. I do know that if I ever get the chance to donate, I'll be 99.9% willing to step up to the call of duty. I decided to interview two South Asian American women who had the opportunity to donate bone marrow, Kristeen Singh and Darshana Vakharia. Here's what they have to say:
Congratulations! When did you do it and what was the overall experience like?
Kristeen: Almost a year ago (Dec 14, 2010), I donated bone marrow for a seventeen year old boy with Leukemia. I was told that the recipient was the same age as my nephew, so it was natural I wanted the same for this boy. As a donor it feels like yes, we are doing it, and yes we are life savers.
Darshana: I donated in January 2004.  When I donated all I knew was that it was for a little girl who was 9 years old.  My oldest daughter was exactly the same age at that time.  Needless to say I couldn't do the procedure fast enough.  All I remember right now is how lucky I felt that I was a match and was actually donating.
When you got the call that you were a bone marrow match, what was your decision making process?
Kristeen: I was in disbelief that I was actually called. It wasn't until I had my blood tested that confirmed I was the best match that, I believed it. I was excited that during the holiday season, I would get to share the gift of life. Continue reading →