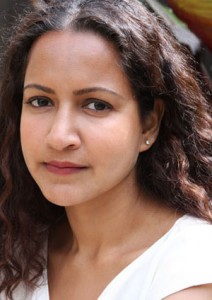 A man would protect them from themselves. You could never, ever, said Priya, underestimate what a relief it was to have someone waiting for you when you returned from the dance bar. 'To be held,' she said, 'even in the arms of a thief, is worth something.' – Beautiful Thing
When reporter and novelist Sonia Faleiro (The Girl) meets a lively, fast-talking 19-year old dancer named Leela in Mumbai, she finds herself intrigued by the characters of the dance bar world and decides to learn more. Over the course of five years, Faleiro painstakingly interviews Leela and her friends and family, as well as other key characters in the Mumbai dance bar scene and captures their stories. The result? Beautiful Thing, a captivating nonfiction narrative full of rich prose and powerful Hinglish dialogues that exposes readers to an underground world where people are mere commodities. A world where relatives sell young girls to the highest bidder and dancers lose their value well before their mid-20s.
At its center, Leela, a proud, beautiful bar dancer full of infectious joie de vivre whose philosophies and observations belie her horrific upbringing. Faleiro tell us haunting tales of Leela and her compatriots in their own voice — sharp, vivid writing that deftly avoids any preachiness, piety or poverty porn. Faleiro documents Leela and her friends as they navigate the world of exotic dancing, brush up against violent gangsters and educate themselves about the ever-present dangers of HIV/AIDS. But when Leela and the other dancers face a politician determined to rid the city of dance bars, their lives are changed dramatically.
In between her travels in India, a jet-lagged Faleiro kindly agreed to tell SM readers more about Beautiful Thing.
In writing this book, you spent roughly nine months with Leela, two years interviewing scenesters in the Mumbai bar dancing scene and two more years continuing to write and research the book – a total of five years. Were you ever tempted to cease work on Beautiful Thing? If so, what led you to persist? I remember coming home at dawn after the birthday party in the hijra brothel, which you read about early in the book, and thinking I couldn't do this for five years. It was just too hard. But the fact is that however hard it was for me to observe, those times, that life, was a hundred times worse for the hijras or Leela to experience. I reminded myself of that every time I wanted to quit. Researching Beautiful Thing changed me. Now I'm suspicious of easy stories. I know the untold, the hidden, the stories we need to report on take time to reveal themselves. They demand as much as they promise to give.
What are some of the perils and perks of writing nonfiction narrative? Well I'm in Bihar right now. So you tell me, peril or perk? I write non-fiction because I want to understand India. The people who interest me live on the margins or in sub cultures, and they experience India in a way that's impossible to imagine—It must be observed. And I like to observe people and things. I like to take my time finding my way around what intrigues me. Non-fiction is an excuse to do that.
What did you learn from writing Beautiful Thing that you will incorporate in your next project, also a nonfiction piece (the topic of which you have not yet disclosed)? I'm not sure I should have stopped at five years. I'd like to spend more time on my next book.
Who are the writers (if any) that inspired you while you wrote Beautiful Thing, both contemporary and classic? When I first started writing about the margins I had no template to refer to.  No one in India did that sort of thing. One of the editors at the publication I worked at told me I was being obsessive and suggested I get down to interviewing Aamir Khan instead. Then I discovered Dayanita Singh's Myself Mona Ahmed, a memoir/biography in which Dayanita's photos of Mona, a hijra trying to find her place in the world, are accompanied by text supplied by Mona. That was the first book I ever read that made my 'obsession' okay. And every couple of years I return to Adrian Nicole Le Blanc's Random Family. It's a book about poverty in America. And it's reportage at peak form.
Beautiful Thing offers a colorful rendering of the Mumbai bar world. In many scenes, you, the narrator, find yourself chatting with gangsters over chai, hanging with hijras in the redlight district, etc. What was the most threatening situation you found yourself in? There were a few. But it's never going to be easy doing this job, and dwelling on such matters isn't helpful. I carry my cell phone and pepper spray.
Since writing the book, I know you have been unable, despite efforts on your part, to keep in contact with Leela herself. What do you think her response would be to the finished product? She won't be thrilled at the amount of space expended on her mother, Apsara. Or on Shetty, her former boss. On people she didn't care for, either at the time or in retrospect. But that apart, I think—I hope—she'll really like it.
What surprised you most about the reactions to Beautiful Thing? That Leela's experiences came as a surprise to many. You cannot live in India and fail to see how difficult women have it. And I'm not just talking about women who are poor or low caste. But of course a woman like Leela who is, in fact, poor and of low caste is born into a life of difficulties that are to us unimaginable. And these difficulties are inevitably compounded by all manner of abuse. This is life for a majority of women in India and we need to realize that. Leela is not the 'Other India.' She, and women like her are representative of India.