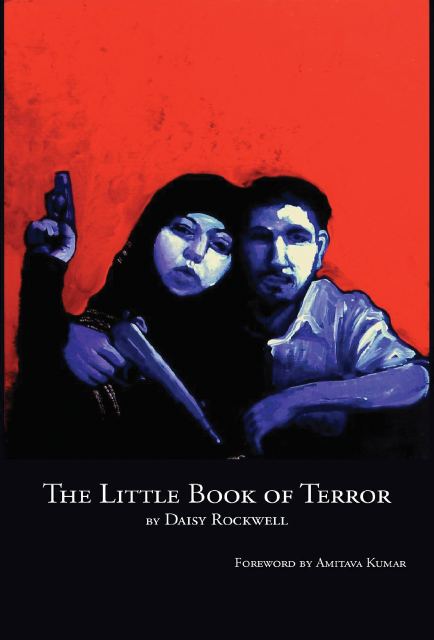 Unsettling. The Little Book of Terror, a slim, brightly-colored book of paintings and short essays by Daisy Rockwell hardly contains standard coffee-table fare. Divided into five sections, this cheeky little volume features your usual gallery of big-name, international rogues. Osama bin Laden. Saddam Hussein. But the feeling of uneasiness comes not from these over-chronicled villain archetypes whose images we've all seen scattered over televisions a hundred times over.
Instead, it comes from candid portraits such as that of Mohamed Mahmood Alessa, a 20-year old in New Jersey who was appended by the FBI after he tried to join a militant group in Somalia. In her portrait of Alessa, Rockwell depicts him in bubble-gum pink tones, prone on a floral bedspread, cuddling with his beloved cat, Princess Tuna. Unsettling. The narrative of terror that we often see seldom contains photos of wannabe terrorists cuddling with their kitty cats, or of the underwear bomber as a sullen teenager, posing during a school trip.
I first came across Rockwell's vivid, unforgettable portraits by chance, wandering around an exhibit at the Twelve Gates Gallery in Philadelphia. There, a series of small, glittery paintings of a regal, coy Benazir Bhutto caught my eye. Two years later, on February 3, Rockwell returned to Twelve Gates Gallery for the launch of The Little Book of Terror, where she read from her book to a rapt audience. Rockwell graciously agreed to build upon temporarily suspend the Sepia-Chapati friendship rivalry and share more about her book with SM readers.
Tell us about your time at Chapati Mystery.
About six months or so after I left academia in 2006, I reconnected with Manan Ahmed, aka Sepoy, and he asked me to write for Chapati Mystery. I'd never written for a blog before and I was not interested at first. But Sepoy guaranteed me complete anonymity and after a while I agreed and took the pseudonym Lapata. "Lapata" in Hindi-Urdu can mean anonymous, but also 'disappeared.' I had disappeared from my life as an academic, my vocation for fifteen years. I also began to sign my paintings with "Lapata," because they were only seen online, and on Chapati Mystery for a couple of years. A part of me also wanted to escape the legacy contained within my real name, I suppose, that of my grandfather, Norman Rockwell. I wanted to make art without the burden of expectations that come with that identity.
 Was there a certain amount of hesitation about revealing yourself as Lapata?
Yes, I was happy with remaining anonymous, but after a while I realized that in the absence of any input from me, people invented their own story of my identity. It was clear that I was assumed to be Pakistani, mostly because Sepoy is, I suppose. I decided I'd rather have my own baggage than some invented identity, so I slowly went public, starting with my first art exhibit in San Francisco in 2008. I do continue to blog under that name, though, and all my paintings are signed in Urdu with "Lapata."
Writing vs. painting. If you were forced to pick just one which would it be and why?
When I was an academic, I did pick one, and that was writing, of course. I stopped thinking of myself for an artist for quite some time. But I was very depressed. I didn't even think I was going to leave academia to do art, I just knew I had to leave. But when I started to paint again, I realized that it was something I couldn't live without, like eating or sleeping. Writing is very important to me too, but I suppose I could live without it if I had to.
How has the birth of your daughter refined your artistic process?
That's a good question. Having a child refines your sense of available time, because all of a sudden you don't have any. I have become much more efficient in my use of time, and, surprisingly, much more productive. I had a show opening in Canada recently, where someone came up and asked me what I did to get my mind off all the horrible things I'm obviously obsessed with (terrorists, torture, etc.). I said, "I have a two-year-old." She said, "Ah, I understand now."
How do you describe "The Little Book of Terror?" A collection of essays? An art book?
It's both. In my creative process, the art usually comes first, but in some cases a project evolves in tandem, words and images come to me at the same time. It doesn't take that long to read, because the art is part of what you are meant to 'read.' In that sense, it's similar to a graphic novel. I am a great admirer of that genre, but, unfortunately, I do not have what it takes to pull off that kind of work. Let's call it an art book with words. Or a words book with art.
Tell me about the cover of your book, it's a very provocative pose. A young hijabi woman with a gun in her right hand sits cradled in the arms of a young man (ostensibly her lover), also armed. It's a jarring portrait.
That painting is based on a photograph of the young woman who allegedly suicide bombed the Moscow subway in 2010. Her name was Dzhanet Abdullayeva and she was seventeen years old. The photo was a self-portrait of her with her husband, who had earlier been killed by Russian forces. I remember when I first saw the photo of her on the cover of the New York Times at a rest stop somewhere in Vermont. It's the kind of grainy, low quality self-portrait people use on their Facebook pages. I couldn't get it out of my head, which is usually how a painting starts for me.
In the introduction to your book, Amitava Kumar writes, "I think of Daisy Rockwell's portraits as a bright, playful gallery composed of pictures that terrorists themselves might put up on their Facebook pages." Comment.
Perhaps? I kind of imagine terrorists as being subscribers to some service other than Facebook, such as Orkut.
What's your favorite portrait in the set?
I don't like to play favorites with my paintings. It's sort of like asking which of my children I like the best (luckily I only have one of those). I am very fond of portrait of John Walker Lindh, it's nice and colorful, and empathize with his desire to really immerse himself in learning a language. The cover portrait I'm obviously attached to as well. But really, I love them all equally.
What have been the reactions to your book? The portraits are charmingly idyllic, but feature some of the most divisive figures in history. Can you tell me about the most negative reactions to them?
Well the book is just out, so I have not had that many reactions yet. But I've exhibited many of the paintings in different places, and weirdly I have had no negative reactions at all. I'm not sure why, but it might be because the message is ambiguous. Although there is a lot of sympathy in my portraits, I don't think people think I am saying, "Go, terrorists!" My goal is to provoke thought and reflection, rather than to take sides.
Plans to publish again? This particular book features only a smattering of your paintings.
Definitely there is material for more publications, but I'm not sure which direction I want to go in yet. I also have some books just made out of words in the pipeline, so look out for those!