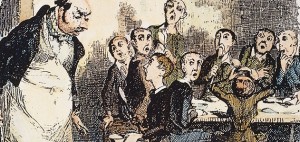 "Please, Sir, I want some more."
Charles Dickens would have turned 200 today. If you haven't read his books, here is the digested read. At the request of BBC World Service I wrote a brief reminiscence recalling my experience reading Dickens in my childhood. Here is the longer version of what I recorded for them:
Children have lurid imaginations. They don't need much help imagining misfortune. But if you are aware of poverty, or see suffering around you, Charles Dickens can be a boon. This is because he is so good at populating that stricken landscape with indelible characters outfitted with violent habits and unforgettable names.
I grew up in a small town in India. The novels of Charles Dickens, in abridged form, were required reading in schools. My uncles on my mother's side worked in prisons. I could look up from a page of Great Expectations and see the convicts working in the house, sweeping a stone courtyard or feeding the cows. Each man, clad in white khadi with blue stripes, would have an iron manacle around his ankle. I went back to the page I was reading, but now troubled by the thought that soon one of them would be beside me, asking me to fetch a file.
In the books that we read, a dramatic pencil illustration would be printed every few pages, with a line from the novel serving as a caption.
"Please, Sir, I want some more." That line was Dickens's gift to me.
At bus-stops, in the homes of less well-off relatives, outside tea-stalls, I looked at the faces of other children as they regarded food that was displayed, or that someone else was eating, and I'd think back to the line I had read in Oliver Twist.
In the new shining India, 42.5 percent of its children suffer from malnutrition. The term "Dickensian" evokes cold dark workplaces and cramped rooms. It doesn't belong to the India of teeming cities with soaring flyovers and glittering multirise buildings. Yet, you can still look at the stunted children and remember, without sentimentality, that old line from Dickens: "Please, Sir, I want some more."