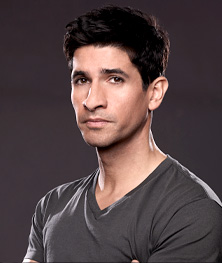 Did anyone catch the premiere of the new NBC drama Smash? It debuted on Monday after a multi-million dollar promotional campaign and many hope that it will be the hit show NBC desperately needs. The hour-long musical drama is about the creation of a Broadway show based on the life of Marilyn Monroe and is produced by Steven Spielberg.
British actor Raza Jaffrey plays Dev Sundaram, the live-in boyfriend of main character/Broadway actress Karen Cartwright (played by former American Idol contestant Katharine McPhee). Jaffrey's best known for his role as Zafar Younis in the BBC drama Spooks.
From his character's mini-bio on the show's official website:
Devan "Dev" Sundaram was born in Wimbledon in the United Kingdom, but has split his time with relatives in Queens for much of his life and has lived in New York City for several years. With a B.A. in Classics and Political Science from Oxford University and M.A.s in Communications (from Columbia University) and International Relations and Journalism (from NYU), Dev has worked as Deputy Press Secretary in Mayor Mike Bloomberg's office since 2010. He lives in Lower Manhattan with his girlfriend, Karen Cartwright.
Masters degrees plural. Of course. It will be interesting to see how the show portrays New York's South Asian community and, since the show films in New York, to see if they visit any notable landmarks. I also wonder if there will be any subplots involving the character's relatives in Queens. I only caught a few minutes of the episode, so I don't have an opinion on the show yet. The entire pilot episode can be seen here.