(h/t
@vetoshield
for Tweeting this video)
Speaking of desis at Occupy Wall Street, last week I chatted with Arun Gupta, one of the founders of the Occupied Wall Street Journal. Gupta, who talked with me on the phone from a road trip to visit different sites of protest, has been working with newspapers off and on for the past two decades, and writes for publications like AlterNet and Al Jazeera. He's also been with the Indypendent for the past 11 years. He told me about making the first issue of the Occupied Wall Street Journal happen in under 24 hours.
(Time-sensitive note for New Yorkers: If you want to hear more from Gupta, The New Yorker's editor, David Remnick, is moderating a discussion about OWS tonight at Florence Gould Hall in NYC. 7 p.m. In addition to Gupta, the event features NYer staff writers John Cassidy and Jill Lepore, as well as former NY governor Eliot Spitzer. Online tickets are gone, but a limited number of free tickets will be available at the door.) And a BONUS read via Sonny Singh: Manissa McCleave Maharawal in conversation with Eliot Spitzer about OWS in NYMag, here. I blogged about Manissa earlier in this series.)
Gupta is no longer involved with the publication—he said he needs to refocus on the Indypendent, as well as his road trip to see all the different Occupy protests. But he told me a little bit about the founding of the newspaper, which he called the only polished media outlet in terms of getting out the perspectives of the people in Zuccotti Park.
At first, OWSJ's founders wanted to pursue publishing the newspaper via the processes afforded by the protest's General Assembly, or its media working group. However, he said, they quickly realized this wouldn't work: agreeing on messaging would be too difficult and slow for a publication to react to events quickly. "There's a value to having this media where you can react in real time," he said. So instead, they set it up as an affinity group that operated autonomously and by consensus; technically, the OWSJ is not an official publication of OWS.
The first issue, Gupta said, wasn't too hard to do, because it was put together with the aid of preexisting content and some strong photographers. It was funded via a Kickstarter campaign that aimed for $12,000 in 10 days and instead raked in $75,000. "It was just a wild success," he said. (Each issue costs $4,000 to $5,000.) An artist contacted them to work on a spread of people holding signs. The resulting publication was a four-page tabloid. (See links to the past three issues of the Occupied Wall Street Journal here.)
At that size, Gupta would prefer to see it come out more frequently, perhaps with two issues a week, but publication has slowed. (Issues came out Oct. 1, Oct. 8, and Oct. 22. I spoke to Gupta after the second issue had come out, but before the third.) "Things can change dramatically within a couple of days down there," he said. "I think you have to engage with the public in a regular fashion."
Experience with the Indypendent led them to believe that a free print publication was the best way to connect with a large audience. "As print disappears the more important individual publications become, especially if you're doing real journalism…. The public is hungry for real journalism," he said. Subscriber-based publications and the Web are both self-selecting, he added, but of course, a free publication reaches a wider audience. The first issue's first printing was 50,000 copies; a second printing added another 20,000. The second issue was another 50,000; they also printed 20,000 copies of a Spanish-language translation of the first issue.
Experience with the Indypendent led them to believe that a free print publication was the best way to connect with a large audience.
Now that he has stepped back from helping with the OWSJ, he is traveling around with the aim of interviewing Occupy protestors. I asked him what he was hearing and seeing in different spots. He noted the wide range of opinions. People he has interviewed at various sites agreement that something wasn't working, he said, but opinions on solutions varied wildly. "I think this movement has a lot of potential to affect social, cultural, and ideological change, but it's going to take a logn time for it to do that," he said. He added that in recent years, some leftists movements have appeared and disappeared quickly; he posited that the left often struggles to get the resources that would sustain such change. Leftist groups "certainly punch above their weight, but still the resources are just so small and everyone is scraping for every penny they can get," he added. For OWS to be different will take time.
*
When—in light of my previous posts about the people of color working group and some of its members—I asked him about race and the protests, he referenced his recent appearance on Democracy Now, where he faced off against Kai Wright. (As Unions, Students Join Occupy Wall Street, Are We Witnessing Growth of a New Movement? (Democracy Now video, featuring Arun Gupta and Kai Wright, plus transcript).) An excerpt from a piece Wright penned for Colorlines prior to the Democracy Now appearance (and which he annotated later):
There are literally millions of people who have been kicked out of their homes, laid off or forced to work multiple part-time jobs, caught in predatory debt traps and, yes, so harassed by cops that they have petty criminal records that make them unemployable. These millions are neither lobbying Congress nor marching across the Brooklyn Bridge; they're trying to make it through the week without another crisis. They are also overwhelmingly and not in the least bit coincidentally black people. And I suspect that until we build our politics around their participation, we will continue to miss the point. Everyone will continue to suffer as a result. Well, everyone except the Wall Street fat cats who have gone right on with their theft throughout their occupation. [full piece, Here's to Occupying Wall Street! (If Only That Were Actually Happening)]
Gupta argued that Wright's take missed the point of the protests, which have no leadership to do the sort of outreach Wright suggests; instead, Gupta said, OWS has created a space. Early on, the protestors counted few New Yorkers and few people of color among their number; now, he said, New Yorkers and people of color are organizing and using the huge platform that OWS affords. "Yes, if you go down there you are going to be dealing with people's white-skin privilege, but so what?" he asked. "We have to struggle with this and deal with it"—engage in a principled fashion, he added, not sit on the sidelines or dismiss it. When he went to the protests in its earliest days, he said, it did not include many members of the New York left. "The movement was a rejoinder to everyone's failed politics," he said. "I include the left in this."
Related links:
Occupying, and Now Publishing, Too (NYT.com)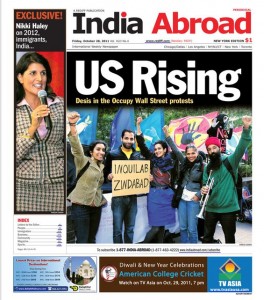 India Abroad cover, featuring desis at Occupy Wall Street (including Sonny Singh!) and more Arun Gupta in the associated story
Personal sidenote: I recently signed on to OccupyWriters. Check out the full list of signatories and original works by Francine Prose, Lemony Snicket, D.A. Powell, Duncan Murrell, Anne Waldman, Danica Novgorodoff and Michael Voll, Maureen Miller, Daphne Carr, Alice Walker, Paula Z. Segal, John McManus, David Hollander, Blair Braverman, Scott Sparling, and Joshua Cohen at Occupy Writers.