Though I've previously blogged about the APIA Census 2010, South Asian Americans Leading Together and the Asian American Foundation have just released a fascinating new report, "A Demographic Snapshot of South Asians in the United States."  Even though the current population total number has been previously reported and is not new news (over 3.4 million South Asians live in the United States and the population has grown by 78% in the last decade), what is interesting about this report (which you can download here) is the population map they provided.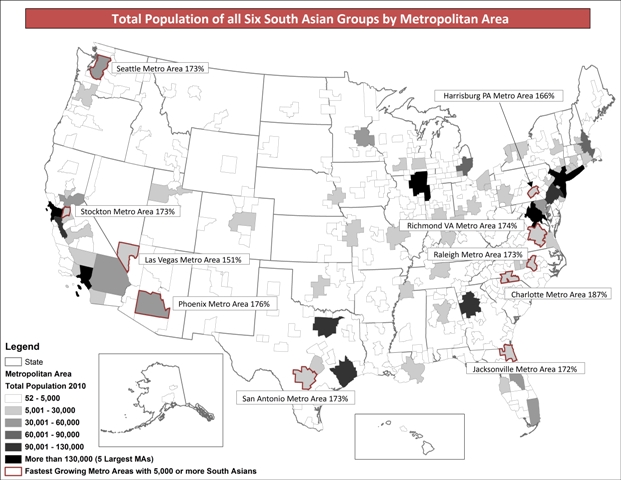 It should be no surprise by now where the largest populations of South Asians are.  According to the report, metropolitan areas with the largest South Asian populations are New York City, Chicago, Washington DC, Los Angeles, and San Francisco-Oakland and in over the past ten years, the Washington DC metropolitan area overtook the Los Angeles metropolitan area as the area with the third largest South Asian population.

But to me what was surprising to see is where exactly the growing South Asian populations live (as seen in the map above). The South Asian population grew the most in Charlotte, NC, increasing 187% over the past ten years. This was followed by Phoenix; Richmond VA; Raleigh, NC, San Antonio, Seattle, and Stockton, CA; Jacksonville, FL; Harrisburg, PA; and Las Vegas. Among the ten fastest growing South Asian metropolitan areas, only the Seattle and Phoenix metropolitan areas had more than 30,000 South Asians in 2010, while the smallest of the top 10 fastest growing metropolitan areas was the Harrisburg, PA metropolitan area with close to 6,500 South Asians. These are all regions without a significant history of South Asian American migration and I wonder what has happened in these regions that led to such a rapid growth in these cities.
And of course, as the electoral geek of Sepia Mutiny (sorry Abhi), I was most impressed by the new data reflecting the updated voting power of the South Asian community.
South Asians are becoming an increasingly powerful segment of the American electorate – with U.S. citizens of voting age increasing between 100% and 414% since 2000.
The population of non-U.S. citizens of voting age has also increased since 2000. While not currently eligible to vote, this population includes green card holders who may become U.S. citizens in the future and will add to the growing electorate.

In addition to the data listed above, there are the additional counties that now have South Asian bilingual needs as reported on the APALC report I blogged about here.
Los Angeles County, California – Asian-Indian
Cook County, Illinois (Chicago) – Asian-Indian
Queens County, New York – Asian-Indian
Hamtramck City, Michigan – Bangladeshi
To me, this civic engagement data is particularly important because despite this incredible growth in voting population in the South Asian community, there still does not exist one civic engagement/electoral organization building on the power of these voters. We have South Asian candidates running for office, people donating a ton of money to them via PACs, Indian-American lobbying organizations and policy advocacy organizations. But since South Asian American Voting Youth dissolved in 2008, there hasn't been another national organization to capitalize on this non-partisan political niche. With the 2012 elections right around the corner and such an incredible growth in South Asian voting and non-voting populations, it's time that the community gets galvanized to build upon these numbers. And it's time for the South Asian community to fund and support these community efforts.
Please check out the report from SAALT & AAF by clicking on this link and spread the report out to key stakeholders that will be interested in these demographic numbers. Though a great effort, I'm interested to see how else the South Asian community data disaggregated by regions will look like and what else that data will tell us, particularly around multilingual, class, and income levels. If you are working on crunching the Census data for the Desi community, please do send it my way!