There are two million South Asian Americans – at least those were the numbers we had to use and were derived from the 2000 Census. But as we've written before, the numbers of the community were suspected as being underestimated in the previous Censuses. The data from the 2010 Census has been slowly release this year and last month the Asian Pacific American Legal Center released their latest report "A Community of Contrasts; Asian Americans in the United States: 2011" (download PDF here) which has a comprehensive national community analysis.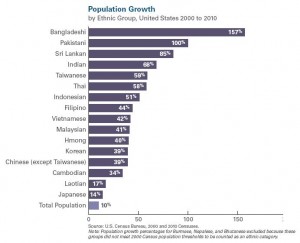 The report covers a wide range of topics such immigration, employment, housing and health. I would like to address in particular the population and civic engagement components that the report discovered in the South Asian community. One of the largest findings is that South Asians are the fastest growing Asian American community; the Indian population is at 3,183,063; the Pakistani population is at 409,163; Bangladeshi population at 147,300; Nepalese population at 59,490; Sri Lankan population at 45,381; and Bhutanese population at 19,439. That brings the South Asian American population close to 4 million with an exact total of 3,863,836 people. The Bangladeshi and Pakistani population literally doubled between 2000 and 2010.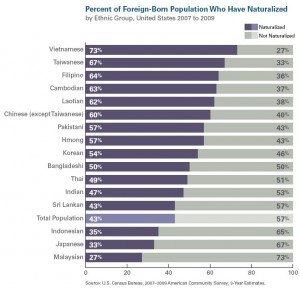 The citizenship rate of foreign-born Asian Americans has also increased, from 50% in 2000 to 57% now. India has one of the greatest number of legal permanent residents eligible to become citizens and 57% of foreign-born Pakistanis have been naturalized. Yet, there are still language and cost barriers associated with citizenship and this remains a hurdle to full civic engagement.
These results and more can be found in the report. But as an electoral advocate, these findings are the most fascinating in how they pertain to civic engagement. As part of the federal Voting Rights Act, Section 203 requires bilingual voting assistance to be required to particular populations, based on Census data. 2002 was the last time an assessment was determined. Due to the results of the 2010 Census, Section 203 now covers Asian American populations located in 22 counties, boroughs, census areas or cities, including 17 new population areas. For the first time South Asian languages are included as a mandatory language for particular counties. The South Asian  jurisdictions covered by Section 203 now include:
Los Angeles County, California – Asian-Indian
Cook County, Illinois (Chicago) – Asian-Indian
Queens County, New York – Asian-Indian
Hamtramck City, Michigan – Bangladeshi
As can be inferred from the above charts, the increase in South Asian populations as well as the higher proportion of naturalized South Asians means that more South Asian Americans are eligible to vote. Providing bilingual assistance will allow the South Asian community to get fully engaged in a process which they wouldn't have otherwise.
As we know, "Asian-Indian" isn't a language. So what language will be chosen in these three counties? In all likelihood, the language will be Hindi though it will be up to the local governing body (such as the Registrar of Voters office) to make the final decision. I'm sure there will also be local community organizations that will be advocating on language preferences for the community. What I was intrigued by was how the largely Punjabi city of Yuba City, CA (13.7% of total population is Asian-Indian) or the silicon-ed Fremont, CA (18.1% of total population is Asian-Indian) were not included in Section 203. For more on California specific Asian Indian population, you can check out the google map here. Though I know Section 203 is focused around "limited English proficiency" which is slightly different than straight "race/ethnic population", I wonder how accurate people report their language capabilities in Census surveys.
There's a lot more in the report that I've yet to dig into – but being the nerd that I am, I can't wait. I'm really interested to see how else these results will potentially influence policy affecting South Asian Americans (such as with redistricting). Mutineers, what are your thoughts on the ethnic/race specific data pulled from the 2010 Census?
* All chart images are from A Community of Contrasts; Asian Americans in the United States: 2011 report.