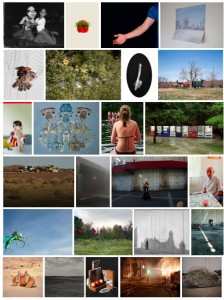 The online art exhibit Skewed Demographic brings together artists to address the racial disparity in the bone marrow registry. Each piece in the online gallery is being auctioned off with proceeds going towards processing bone marrow testing kits.
Photographers Shirin Adhami and Sunita Prasad curated the show in honor of Photojojo founder Amit Gupta and other South Asian leukemia patients. Adhami first met Amit Gupta when both were undergraduates at Amherst College a decade ago. When Gupta first announced his diagnosis and his need for a bone marrow donor, Adhami was one of his many friends who rallied to action.
"Personally, I was working on doing drives and I was thinking of doing a more symbolic gesture," said Adhami during a recent phone interview. "How could I reach an audience that maybe couldn't donate marrow? How could it be more than a request for money?"
Adhami decided to put the call out to her contacts to see if they would be willing to donate their work to the cause. "The idea is photo-based, but the artists are not necessarily all photographers. The inspiration is really from Amit's photo interest," she said. "There were times that I have not even realized I was using one of his inventions until much later. He has really affected the photo world with Photojojo."
The show debuted at the Queens Museum in New York last week and now exists solely online. Bidding closes on Monday, December 19, but Adhami says that she continues to receive donated pieces from artists and will keep bidding open for the newer items a bit longer. She estimates that about $10,000 worth of artwork has been donated for the auction.
The bidding process is simple: just email skeweddemographic@gmail.com with the amount you'd like to bid and the lot number of the item. Suggested minimum bids are listed on each piece's page. As an added bonus, Adhami says one of the artists will send a small print to everyone who bids on an item.
Highlights from the show include this print by Bill Burke and a print by legendary photographer Joe Deal, who passed away from cancer last year. The print was donated by Deal's widow Betsy and is not currently available anywhere else. Other items up for bid include prints by Jesse Burke, Tom Griggs, and Rebecca Heyl.