UPDATED Dec 21, 2011: Looks like Aisha Khan was found and that some of you skeptical commentators were right all along. We will keep you posted as the story develops.
According to Overland Park police, officers made contact with her Wednesday afternoon. She was not abducted or held against her will. Police said there is no criminal investigation. [nbc]
+++++++++++
Are you in Kansas? Pay attention to this photo. Her name is Aisha Khan and she's missing.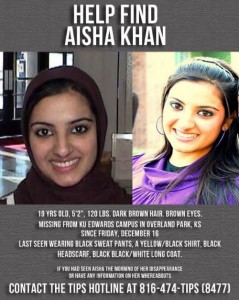 I can't shake the chills her story gives me. She's petite, 19 yrs old, newly wed and a college student. Her sister dropped Aisha off at 10am on her college campus so that she could prep for her noon final. But she never made it to her final.
Aisha Khan … has been missing since Friday morning. That is when her older sister said she left frantic text messages with her about a drunken man on the Edwards Campus she described as "creepy." Faiza Khan said she dropped Aisha off at the campus around 10 a.m. Friday ahead of a noon final. The text messages started arriving within an hour.
"There's a creepy guy that just came up to me, and he was harassing me," Faiza said her younger sister told her in a message. She told local media outlets that Aisha "was just freaking out at that time. She didn't know what to do. I guess she pushed him and she slapped him." [cjonline]
I can't count how many times I've been creeped out by harassing men – it often feels that as a woman in the American public we have to brace ourselves for street harassment. But Aisha is a girl in hijab – I can only imagine that her harasser must have said something really islamophobic and sexist to have deserved a slap. Finally, there's the voicemail message she left her sister.
"Oh my gosh it was so scary," Aisha said in her voice message. "My heart is like pounding. I've never got this scared in my life. Pick up your phones. I am freaked out right now."
Faiza said she and a cousin went to the campus and found Aisha's phone, book bag and iPod on a picnic table, but her sister was gone. [cjonline]
Aisha went missing on Friday morning around 11am. It has been three days since she's gone missing. Every minute counts right now. Her family has put out a reward for $10,000 for any information on her disappearance.
Aisha's disappearance is only one in a long line of crimes in the South Asian American community that have happened in the past few weeks.
Most of the crimes mentioned above are not currently considered hate crimes by local police and local advocates are working hard to make the crimes recognized as such. It's difficult to imagine, especially seeing the crimes listed side by side, how the incidents were not fueled by islamophobic and xenophobic hate.
One thing I'm sure of, the rise of crimes like those above are directly correlated to the rise in anti-Muslim and anti-immigrant bigotry that we see in popular media. Unfortunately, I'm afraid that Aisha Khan's disappearance is one that was fueled by islamophobia as well. My prayers are with her family and I'm wishing for her safe return.