Suketu Mehta, journalism professor and Maximum City author, landed an exclusive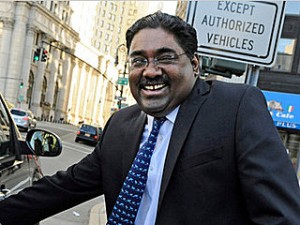 interview with Raj Rajaratnam and wrote a compelling article for Newsweek on the former hedge fund titan who was sentenced to 11 years in prison for insider trading. Rajaratnam, of Sri Lankan origin, has some choice words for the Indian-American associates who betrayed him. But some readers might have choice words for Mehta, who suggests that Rajaratnam is not too different from other South Asian immigrants.
The whole story speaks to the South Asian–American community: its pursuit of success and money at any cost; the differences between immigrants and the first generation; and the immigrants' incomplete understanding of the rigor of the law in the U.S. [Daily Beast]

Just in case you have an incomplete understanding of what he means, here it is again later in the article.
The Rajaratnam case can be seen as a metaphor of the difference between immigrants from South Asia, who have a more elastic view of rules and a more keenly developed art of networking, and their children, the first generation, schooled to play by American rules. [Daily Beast]

Elastic view of rules? For a moment there, I thought he was referring to the rules of journalism.