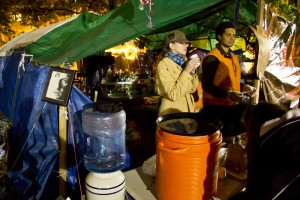 A young Sikh man who traveled from northern California to Washington, D.C., to attend the dedication of the new MLK, Jr., memorial last month stayed on to become a part of Occupy D.C in McPherson Square. The Washington Post reports that Basant Khalsa, 29, contributes to the Occupy D.C. kitchen efforts by working long hours to serve hundreds of meals each day for meat eaters and vegans.
Khalsa, 29, has no experience in professional kitchens. About a month ago, he took a break from his job as a trucker to attend the dedication of the Martin Luther King Jr. Memorial; he hasn't left yet. A previous gig as an inventory analyst with Coca-Cola, he says, gave him the skills to pinpoint problems on the spot. He works 16 to 17 hours a day and doesn't suffer fools who dare bog down his operation.

If you ask why Khalsa volunteers for this thankless work, he won't invoke any slow-food ideals of shared meals and sharing knowledge about sustainability. Instead, he'll invoke his religion, Sikhism. "I like to help people," says the turbaned Khalsa, who embodies both authority and the collective. He's the master of his kitchen and the servant of the hungry.
Read more about Khalsa and Occupy DC and view photos and video of McPherson square at the Washington Post.
Photo of a kitchen at Occupy DC from http://www.flickr.com/photos/thisisbossi/6315806203/