If this was 2004 (when this website was first created), the incident described below wouldn't surprise me at all.  But in 2011?  Really?  Via TPM: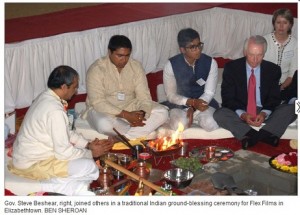 Gov. Steve Beshear (D-KY) is heavily favored to win re-election in a vote next Tuesday, with leads of roughly 2-1 in all the publicly released polls. Now his Republican opponent, state Senate President David Williams, is launching an attack against Beshear on a new front: Beshear participated in a Hindu religious ceremony!

This past Friday, Beshear attended a groundbreaking ceremony in Elizabethtown, Kentucky, for a new factory run by FlexFilm, a company based in India that makes materials for packaging, printing, insulation and other purposes. The plant represents a $180 million investment, and is expected to create 250 jobs in Kentucky.

As the local newspaper the News-Enterprise reports, the groundbreaking included a Hindu ceremony, the bhoomi poojan
What exactly did Williams utter?  It was pretty clearly bigoted:
"He's there participating with Hindu priests, participating in a religious ceremony," Williams said during a campaign stop in Shelbyville. "He's sitting down there with his legs crossed, participating in Hindu prayers with a dot on his forehead with incense burning around him. I don't know what the man was thinking."

Beshear's campaign spokesman called Williams' remarks "pathetic and desperate."

"Gov. Beshear is proud that 250 new jobs are coming to Elizabethtown," campaign spokesman Matt Erwin said in a statement.
You know the main difference between 2004 and now though?  I am not so outraged by this.  I just see it as a pathetic last act.  Early last decade the feeling you got was that there weren't enough people that would fight back and that hate speech would be accepted, vaulting a Williams-like politician to the top of the polls.    Not the case here. Williams, according to some polls, is 25 percentage points down.  The way we fight back is to vote and to form close ties to the communities we live in.  The way we fight back is to build more businesses in communities that need jobs.  We should not wait for self-appointed "National Hindu spokesman" (like the ubiquitous Rajan Zed claims to be) to come to the collective defense of Hindus.
Bigoted politicians, take note.