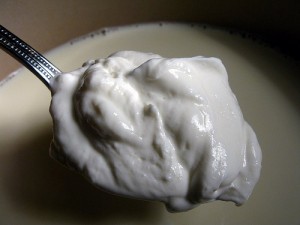 When I was younger, yogurt repulsed me. This was no small thing because my parents come from southern India, where yogurt seems to serve as a sort of digestif without which meals don't feel complete. There was always a pot of homemade yogurt in the fridge or on the kitchen table.
Family members would marvel (and sometimes take offense) that I wasn't finishing up my meal with yogurt, mixing it up with rice or using it to temper the spicy foods or pickles. Imagine a grandma's Ayurvedic admonitions in place of a Robert Mitchum voiceover and a symphony of joyful slurping instead of Copland's "Hoe-down" and you'll have an idea of what the Yogurt, It's What You Eat After Dinner experience was like. Some of the reasons why I was supposed to eat it:
It tastes good. They felt sorry for me that I was missing out on so much tart-y goodness.
It had calcium and protein, both of which I needed to grow up strong and healthy.
Something to do with eating compatible "hot" and "cold" foods. I know it has less to do with food temps than other characteristics, but don't know enough.
Perhaps you can think of more reasons to add to the pro-yogurt chorus. A recent Wall Street Journal article suggests another possibility—that maybe probiotic bacteria, the microorganisms typically found in yogurt and dairy products and known to have benefits in the gut, also have positive effects on the brain, reducing psychological distress and increasing confidence. Tests with mice found that mice given Lactobacillus rhamnosus behaved more confidently and with less anxiety and had a more positive mood than those not given the bacteria. Read the article at the Journal and the Economist for more information about this research.
I can't say that I like yogurt as much as one company seems to think women would (nor can I figure out what "zen wrapped in karma" might mean), but nowadays I do like yogurt very much, in pretty much all of its forms—plain, homemade, Greek, frozen, non-fat, 2%, full-fat, etc. Not sure how or when this change in attitude happened, but surely it must have involved a taste of perugu vada.
Possibly interesting: Why Indians and Europeans Tolerate Milk  
Image: Flickr photo from http://www.flickr.com/photos/johnnystiletto/