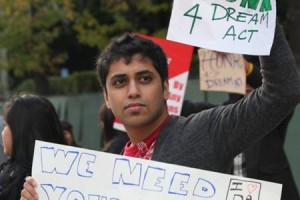 I've been following closely the case of Minhaz Khan, a 24 year old undocumented Bangladeshi-American from the Inland Empire who, on Nov 4th, was required to put on an ankle bracelet and present a one way ticket to Bangladesh to the authorities. It had been 20 years since he'd been to Bangladesh and when his father was deported after being denied political asylum, he was murdered for his political affiliations in Bangladesh. DreamActivist.org had a petition out to support his case and his case garnered local media coverage. His case officer read  the coverage and removed the bracelet last week and Minhaz last Tuesday was granted a temporary stay.
Minhaz Kahn

— the UC-Riverside alumnus who last week had to show immigration officers that he bought a one-way ticket back to his native Bangladesh — learned Tuesday that he doesn't have to return home just yet. He will be able to stay in the country for another three months…[T]op federal counsel told a group of 

American Immigration Lawyers Association

 attorneys in a meeting last week that they will not automatically grant a stay for all other DREAM Act eligible immigrants who are awaiting deportation, says AILA attorney Leah Price. [

SFWeekly

]
I had the chance for a virtual sit-down with Minhaz right after the ankle bracelet was placed on him a couple of weeks ago. Here's what he had to say.
When and why did your family come to the United States?
My family came in 1992 to flee danger. My dad left entrepreneurial success and political influence to work at gas stations and my mom left a teaching career and lost all significance her Master's held, so to anyone who says immigrants come here to take anything from anyone is missing what many people have to leave behind for safety and the possibility of a better future.
Why wasn't your father able to seek political asylum? What happened after he was deported?
I'm not completely sure why he wasn't granted asylum. I never got to see the judge's decision, but I think he missed an interview or something due to a lawyer not notifying him. After he was deported in 1997, he died (or in my whole-hearted belief, murdered) a couple of years later.
You've lived in the United States your whole life – why are you being deported now?
After my father left, my mother continued to try to legalize our status but further complications with shady people left us in limbo. By this time, I was headed off to college and legal status fell by the wayside of more immediate problems. Eventually this caught up with us, ICE raided out home at 4am in a September 2009. Since then, we were released under Order of Supervision and we were able to attempt to pursue steps to adjust our status but would report every 3 months. We still have things pending when I decided to move to SF to pursue better educational opportunities and asked to have my case transferred to the SF ICE office. It went smoothly, I even checked in with SF ICE and was let go. Then, they called me to come back in and told me I had to buy a plane ticket and that they were going to enforce my deportation and put an ankle bracelet on me until the 18th, when my flight would take place.
You've been a Dream Activist and are technically eligible for the California Dream Act. Why do you think this is important?
This country benefits when educational access is based on academic merit. That means, no matter your legal status, if you are a good student, you deserve the opportunity to continue that. I've been lucky to get through school but other undocumented students have even tougher circumstances. the CA DREAM Act gives access to already established funds to students who need it. It does not take away from citizens because those funds are already set aside based on high school graduation rates.5. For my mom, I'm sure it was financially tough. For me, I am not sure, I don't have anything to compare it to. My childhood was interesting, we lived paycheck to paycheck, it wasn't easy for my mom to get jobs. But I definitely feel I appreciate things more but you can say that about anyone who grew up relatively poor and especially undocumented families.
How has your mom dealt with all of this and how has she been able to keep it together?
 I really don't know. She is a strong, if stubborn, woman.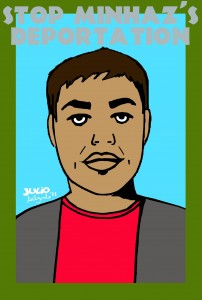 You are studying neuroscience. what do you want to do with that?
I really wanted to get involved with research and I got a small taste of that at UCLA, but with my current situation needs me to consider work opportunities over that. So, I was trying to get a few classes I need to get into a PA program and have a stable career and then maybe pursue teaching science and math part-time later on down the line.
I thought only Paris Hilton and Lindsay Lohan wore ankle bracelets – how's it feel to have that thing on your ankle? What are the rules around it?
It's annoying. I literally had to scurry to drive home tonight to charge it before I began responding to you. It is my responsibility to take care of it and keep it charged (2 hours each day) otherwise I get in trouble. It is considered leniency, an "alternative to detention." I cannot go outside of 65 mile radius of my address and I have to stay home one day a week for them to come check up on me, and also spend one day a week going to their office to check in. It also hurts like hell on my ankle bones without socks on. Sometimes it doesn't work right, and beeps all night even though it's been charged over and over. It's run by a third party private company.
What have you learned from the process?
A lot. I follow the legal process a lot and I learn something new each time, but I only know one path right now: my own. Experienced lawyers have seen them all. Getting a good lawyer is hard. My current lawyer is awesome and truly fights for me, but I have had lawyers who are just salespeople with a diploma.
What can people do to help?
An ICE Chief Counsel is considering a package my attorney has sent them to jointly request my case be dropped. In the future, I might need support to get attention from Congressional offices. But what people can really do is keep in mind what is happening, and that my case is just a sample of what's going on to others. Private companies are influencing the laws being passed in this country and then profiting off of people's fears, ignorance and suffering.
Congrats to Minhaz and his lawyers for being able to gain the temporary stay. It doesn't end here – Minhaz's story is just one of many cases out there highlighting issues with Dream Act eligible students that are being forced into deportation proceedings after living in the U.S. their whole lives. One thing is clear – the immigration system is clearly backlogged and broken, no matter what side of the aisle you believe in. Reform is needed. Please follow Dream Activist to follow the latest stories from this movement.