If you're a student of bhangra – you already know Bikram Singh from his work on the Where's the Party Yaar soundtrack and his hit single, "American Jugni/Kawan." But even the most fervent of bhangra aficionados may not know that in addition to breaking it down on stage, Singh has a second career – as an esquire. In celebration of his third full-length album, BIK I AM, which released on Thanksgiving Day, SM asked Singh a few questions.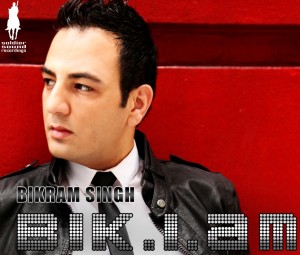 How does your lawyering help your bhangra-ing and vice versa? There is a creative aspect and business aspect to music. Lawyering helps the business aspect of music. Bhangra helps relieve any stress lawyering may have caused over the week! It keeps me sane.
Explain to me how you balanced your music during law school. It required a lot of hard work. I often briefed my cases on the plane. Law school is not necessarily hard in terms of the content. It is the voluminous amount of material that you have to manage in a very limited amount of time. I had to become better at time management. Whatever time I had, I had to use it wisely. I also slept very little.
Is it possible for the bhangra scene to evolve in the US as it has in the UK? Actually, it is evolving slowly. There are a few artists in the US making bhangra. Unlike the UK, there is a lack of geographical proximity to other artists and musicians in the US, which makes it difficult for artists to pursue music. It will change slowly, as more artists start to make music.
What are your thoughts on the state of the stale UK bhangra scene? Artists in the UK need to experiment more. Everything that has been coming out recently is sounding the same. For some artists it may be important to make wedding music to get wedding bookings, but artists should make music for the art of it too. We need more artists who are not afraid to take a chance.
Tell us what it's like working with the Das Racist gang? It was a lot of fun! We had a great time recording "Punjabi Song", together. They are fun guys to hang out with!
So when are you going to quit your day job? Which one? I try to devote equal time to both, law practice & music. I have my own practice, so there is flexibility of time. I enjoy doing both. I will continue both for as long as I can.
What's your go-to bhangra dance move? I am really not much of a dancer. I usually go for the standard "arms up, screw the light bulb" style move!
What are some of the projects you're currently working on? I just  finished album, "BIK I AM," released on Soldier Sound Records, ltd in the UK, Inar Records ( my label) in America and Sony BMG in India. Aside from that, I am working on bunch of collaborations, including partnering with Beatwala. I'm also working with some amazing new producers from the UK, "Atik Middleman"Rehman, Nav Sarao, Bellringer, and others.
Which artists do you have your eye on right now? Who do you think will blow up in the next five years?  I do think that Shide Boss has a great voice. I am not a big fan of his rapping, but I think he can sing.